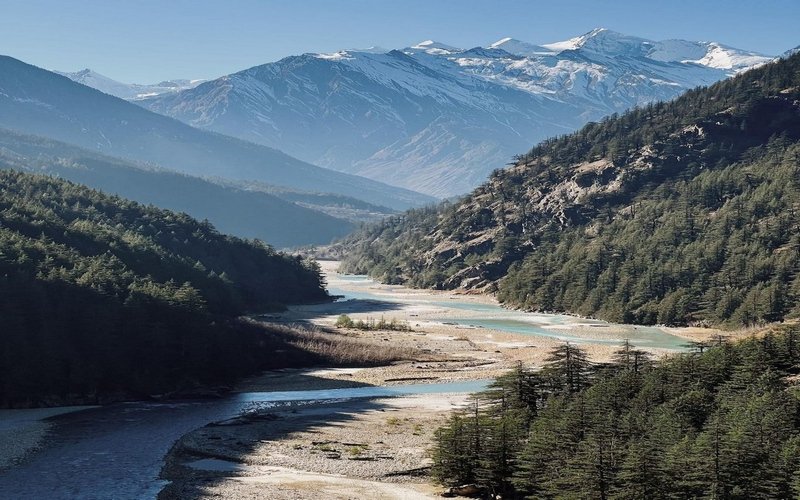 Uttarakhand Tour Packages
Have an amazing vacation with IndiaTripio's wide range of Uttarakhand tour packages in the exotic destination, Uttarakhand which is renowned for its beautiful pilgrimage sites, high-altitude treks, serene hill stations, adventure activities and yes several fantastic places. Boasting jaw-dropping views of the Himalayas, Uttarakhand has everything in store for every traveller.
Places like Dehradun, Mussoorie, Rishikesh, Haridwar, Auli, Chakrata, Valley of Flowers, Dhanaulit, Kanatal, Bhimtal, Joshimath, Kumaon, Chopta, and Munsiyari are some of the fantastic places to visit on your next Uttarakhand trip. Browse through our wide range of Uttarakhand holiday packages which are well crafted for travellers.
With lots of stunning places to explore in Uttrakhand in your Uttarakhand tour packages, IndiaTripio aims to give you an unmatchable experience. So book from the wide range of Uttarakhand trip packages that reveal the greatest gems of Uttarakhand that happily welcomes you to unleash its untouched splendours and picturesque vistas.
Tour Packages
Uttarakhand Family & Couple Packages
Other Uttarakhand Packages
Places to visit in Uttarakhand
With our wide range of Uttarakhand tour packages grab a chance to explore the topmost places in Uttarakhand for a top-notch experience. We have listed some of the must-visit places for you that will help you to plan your tour itinerary-
1. Auli
Beautifully located in the Chamoli district in Uttarakhand, Auli is one of the most visited hill stations in India. The natural vistas, jaw-dropping views of the Himalayan peaks, and lush wooded vegetation are the key highlights of Auli. Have a fantastic sightseeing tour of famous places here like Auli Artificial lake, Gorson Bugyal, Chattarkund, Joshimath, Narsingh temple, and Chenab lake.
2. Chopta
A fantastic getaway for travellers, Chopta is a picturesque hill station in Rudraprayag district in Uttarakhand. Labelled as Mini Switzerland of India, Chopta acts as a base for numerous trekking destinations like the revered Tungnath temple, and Chandrashilla. This place holds some fabulous places like- Tungnath temple, Deoria Tal, Chandrashilla, Ukhimath, Kanchula Korak Musk deer sanctuary, Omkar Ratneshwar Mahadev, and Rohini Bugyal.
3. Mussoorie
The Queen of Hills, Mussoorie, is a hill station nestled in Dehradun. This serene hill station is a fantastic weekend getaway option for travellers. The beautiful dense forests of cedars and deodars beautifully cover Mussoorie from all directions. Uttarakhand tour packages offer a wonderful tour of famous places in Mussorie like- Mussoorie lake, Kempty Falls, Jharipani Falls, Mossy Falls, Lal Tibba, Happy Valley, Gun Hill Point, and Lake Mist.
4. Nainital
The city of Lakes, Nainital is a fantabulous hill station located in the foothills of the Kumaon ranges in the state of Uttarakhand. Enjoy boating in the serene Naini Lake, have a plate of Garhwali and Kumaoni delicacies, and enjoy a ropeway ride from a tranquil snow viewpoint in IndiaTripio's Uttarakhand trip packages. Enjoy a tour to must-visit places here like- Naini Lake, Eco Cave Gardens, Naina Peak, Tiffin Top, Mall Raod, Snow View Point, Naina Devi Temple, Nainital Zoo, and Raj Bhawan.
5. Jim Corbett National Park
Home to the Royal Bengal Tiger, Jim Corbett National Park is the oldest national park which is beautifully nestled amidst the foothills of the Himalayas in the beautiful Nainital district of Uttarakhand. Renowned for its wildlife safaris, this national park is home to more than 650 species of rare and migratory birds. Have an encounter with wild animals like the Asiatic Balck bear, Hog deer, Walking Deer, Sambhar, and Sloth. Explore some places located in and around this national park for a memorable vacation- Corbett Waterfall, Corbett museum, Kosi river, and Garjiya temple.
6. Haridwar
Haridwar is a religious place located in the state of Uttarakhand. One of the holiest places, Haridwar remains decked with devotees throughout the year. The smell of incense sticks, chanting of priests, sadhus all around, pious Ganga Ghats and blissful Ganga Aarti every morning and evening will surely mesmerize you in Uttarakhand holiday packages. Pay a visit to some beautiful places like- Har Ki Pauri, Mansa Devi temple, Shanti Kunj, Bharat Mata temple, Vaishno Devi temple, and Chandi Devi temple.
7. Rishikesh
The Yoga Capital of the World, Rishikesh is nestled in the foothills of the Himalayas along the convergence of the Ganga and Chandrabhaga rivers. This place is majorly known for its adventure activities, pretty ancient temples, famous cafes and serene places. Add some astounding places to explore in Rishikesh for a gratifying experience- Laxman Jhula, Ram Jhula, Janki Setu, Neelkanth Mahadev temple, Triveni Ghat, Neer Garh Waterfall, Vashishta Gufa, Parmarth Niketan Ashram, Shivpuri, The Beatles Ashram, Swarg Ashram, and Kaudiyala.
8. Dehradun
Another fantastic destination for a ravishing vacation head towards Dehradun, a place that boasts of the picturesque backdrop of the Garhwal Himalayas. Be its thrilling adventures, revered temples, astonishing places, and vibrant markets, Dehradun has it all. Have a look at some of the exotic places to add to your bucket list- Tapkeshwar temple, Dehradun Zoo, Sahastradhara road, Robber's cave, Lachhiwala, Maldevta, Fun Valley, Laxman Siddh temple, Khalanga war memorial, Shiv Mandir, Daant Kali temple, and Buddha temple.
9. Chakrata
One of the offbeat destinations in the state of Uttrakhand, Chakrata is undoubtedly a mind-blowing place to visit and is a paradise for nature enthusiasts. Head towards this scenic location and explore some of the fabulous places like Tiger Falls, Deoban, Budher caves, RamTal Horticultural Garden, and Chilmiri Neck.
10. Munsiyari
Labelled as Little Kashmir, Munsiyari is a beautiful hamlet situated in the Pithoragarh district of beautiful Uttarakhand state and is perched between the borders of India, Tibet and Nepal. This place is renowned for its snow-capped Himalayan range and yes for the scenic trekking trails and is a base for three glaciers- Namik, Milam and Ralam glaciers. Maheshwari Kund, Birthi Falls, Panchachuli Peak, Thamari Kund, Khliya top, and Nanda Devi temple.
Things to do in Uttarakhand
For an ultimate experience head towards Devbhoomi, Uttarakhand. From trekking to paragliding, white water river rafting, to ropeway rides to serene camping, there is no dearth of activities in Uttarakhand. Have a look at some major thrilling activities to pursue on your next vacation in Uttarakhand-
1. Trekking
The state of Uttarakhand is not only famous for its revered temples, scenic beauty, and astounding places but it is also known for trekking. The trekking routes in Uttarakhand welcome one with natural vistas and panoramic views that are surely breathtaking. Have a look at some of the famous treks to commence on your next vacation- Valley of Flowers, Roopkund trek, Lal Tibba trek, Chopta trek, Kuari Pass trek, Rupin Pass trek, Panch Kedar trek, Nag Tibba trek, Dodital lake trek, and Pindari glacier trek, Bhramtal trek, and Har ki dun trek.
2. Camping
Have an alluring experience of spending your time sitting under the sky enjoying a bonfire. Camping is one of the major activities among adventure junkies. Here are the famous camping places in Uttarakhand—Shivpuri, Nainital, Rishikesh, Deoria Tal, Kanatal, Corbett, Auli, Chopta, Dhanaulti, Binsar, Pangot, Jharipani, Dodital. Just pitch your tent, enjoy a cup of tea and have a good time gazing at the stars.
3. Bungee Jumping
Another fantastic hair-raising activity is Bungee jumping. One can enjoy this activity in Rishikesh. This activity involves the fall from a ramp which is staged over the river Ganga with a depth of 2 feet. The experience of a free fall and then the bounce back of the body in the air is way beyond imagination.
4. Rafting
Enjoy rafting sessions in Uttarakhand's famous locations for a thrilling experience. Famously known as the white water rafting spot of India, Uttarakhand offers the finest locations for rafting to its rafters. Here are the perfect locations for this adventure- Rishikesh- Brahmpuri, Shivpuri, Marine Drive, Kaudiyala, Ranikhet-Kosi river, Kumaon- Sheraghat, Bagehswar, Jauljibi, and Pancheshwar, Nainital- Ramnagar, Ramganga river and Kosi river, Pithoragarh- Nidal, Sonaligaon, Pancheswar, Parigaon, and Mahakali river.
5. Paragliding
Enjoy paragliding in the most scenic locations in Uttarakhand for a bewitching experience. Capture the awe-inspiring aerial views gliding high in the sky. Have a look at some of the perfect and best locations for this thrilling activity- Rishikesh, Mussoorie, Nainital, Naukuchiatal, Dehradun, Bhimtal, and Kausani.
Best time to visit Uttarakhand
For an ultimate experience, head towards Dev Bhoomi, Uttarakhand and have an encounter with the serene environs this state holds. If your next destination for your vacation in Uttarakhand, then make sure to go through the best time to avoid hindrances. March to June is the time when this state experiences the summer season. This is the best time to visit and explore the beauty of Uttarkhand along with some numerous adventures.
Avoid monsoon season which starts in July and ends in September as the state experiences humidity and there are great chances of landslides. The Winter season which is from October to February is yet another fantastic season to enjoy your vacation in Uttarakhand. The days are salubrious but the nights are quite cold. It is indeed the best time for snow lovers as most of the places in Uttarakhand receive snowfall and create an opportunity for winter adventure activities like skiing.
Frequently Asked Questions
Q :
Which are the best places to visit in Uttarakhand
Devbhoomi Uttarakhand is renowned for its Hindu pilgrimage sites, beautiful places, and adventure activities too. Grab a chance to explore some of the fantastic places in Uttarakhand with our wide range of Uttarakhand tour packages like- Chopta, Auli, Mussoorie, Nainital, Haridwar, Rishikesh, Dehradun, Chakrata, Corbett National park, and Munsiyari.
Q :
What is the best time to visit Uttarakhand?
Uttarakhand enjoys salubrious weather throughout the year. March to June is the time when this state experiences the summer season. This is a good time to visit and explore the beauty of Uttarakhand along with some numerous adventures. The Winter season which starts from October to February is another perfect season to enjoy your vacation in Uttarakhand.
Q :
What are the adventure activities in the Uttarakhand tour?
Abode of the Gods, Uttarakhand state beautifully flaunts its lofty mountains, alpine meadows, gushing waterfalls, glaciers, and pristine lakes which are must visit. Apart from scenic places, Uttarakhand offers several thrilling activities like- trekking, camping, bungee jumping, rafting, and paragliding. For an ultimate experience go through our exotic range of Uttarakhand tour packages and get transferred to some exotic destinations and enjoy the hair-raising activities with your loved ones.
Q :
Which are the pilgrimage sites in Uttarakhand?
The serene Uttarakhand holds several revered temples and thus it is referred to as the abode of the gods. Here are some of the sacred places to visit- Panch Badri, Panch Prayag, Char Dham, and Panch Kedar. Pay a visit to the top pilgrimage sites in Uttarakhand for an alluring experience- Bageshwar, Guptakashi, Uttarkashi, Haridwar, Bharatha temple, Gita Bhawan temple, Gangotri, Tarkeshwar Mahadev temple, Rudranath temple, and Kainchi Dham.
Q :
Which are the famous hill stations in Uttrakhand?
The beautiful state of Uttarakhand is one of the favoured destinations among travellers. Enjoy your vacation at some of the amazing hill stations located in Uttarakhand- Nainital, Mussoorie, Auli, Lansdowne, Kausani, Tehri, Ranikhet, Dhanaulti, Mukteshwar, Chamoli, Almora, Munsiyari, Chakrata, Pauri Garhwal, and Kanatal.
Q :
How many days are enough for a Uttarakhand trip?
For a wonderful experience in Uttarakhand, 7-8 days are enough to cover some famous places in Uttarakhand. Our Uttarakhand tour packages are well crafted and cover all the prominent places in Uttarakhand.
Q :
How to book the Uttarakhand tour package with IndiaTripio?
IndiaTripio offers a wide range of customizable and affordable Uttarakhand tour packages. Be it a short tour or a long itinerary, a comfortable stay or an adventure vacation, whatever your travel preference, IndiaTripio has the right Uttrakhand vacation tours for you to choose from. For any enquiry, you can connect with us on Whatsapp or you can request a callback.